Seacoast Shipping Services Limited is a young, progressive organisation providing single window logistics services to exporters and importers. Seacoast started as a freight forwarders and shipping agents in the year 2005.
From a modest beginning with a dozen containers a month 6 years ago we have grown into a one of the largest freight forwarders in Gujarat. We are in fact among the top 3 freight forwarders handling Agri export commodities exports in containers from Mundra port. Since the inception we have strived to integrate freight forwarding with transportation of containers & cargo for stuffing, phyto sanitary service & customs house clearing services.
Seacoast Started as Freight forwarders and later stepped into complete logistics solution under one roof and mainly handled agro cargo and liquid cargo in the year 2007. We have been working as an International Ship Operator of Modern Dry Bulk Vessels for the Past 2 years now.
Seacoast Shipping Services Limited is a company fully registered by the laws in India. It is ably supported by a team of professionals, each an expert in their respective areas of operation.
Every year we carry around 5.0 million mt of bulk /and unitised cargo across the oceans. As a specialist in spot business, we focus fully on dry bulk logistics and Container Freight Forwarding along with Inland Road Logistics.

Our efforts have paid off and we have now grown into a TOTAL MULTIMODAL LOGISTICS PROVIDER offering seam-less services from the transportation of cargo till export.
THE MANTRAS TO OUR SUCCESS ARE:
The close relations we have established with large agri-commodities exporters
Ability to execute large export consignments under difficult circumstances
Door to door services we provide for exporters
Seacoast Shipping Services Limited is owned by Mr. Manish R Shah. It is ably supported by a team of professionals each expert in their respective areas of operation.
Our Services
We offer a one-stop solution for the oceanic transport of dry bulk cargoes worldwide. While our main role is ensuring the safe and efficient Marine transportation of commodities, we believe that we can offer excellent customer service by understanding our partners, their businesses, and commodities. 
Ship Chartering
Charter Vessel on Time or Period for movement of cargo Worldwide
Coastal Trade
Majority of Bulk cargo has started moving on Waterways than from Traditionally Road/Rail movement, Seacoast plays a Vital role in Coastal Trade
---
Freight Forwarding
End to End Service Provider for Container movement  
Warehousing and Transportation of FMCG product
Providing end to end service in FMCG product for example Liquid, Salt ,Ceramic etc. within India.
Mining and Transportation
Mining operations and Transportation  of Bauxite from Mines to Port 
---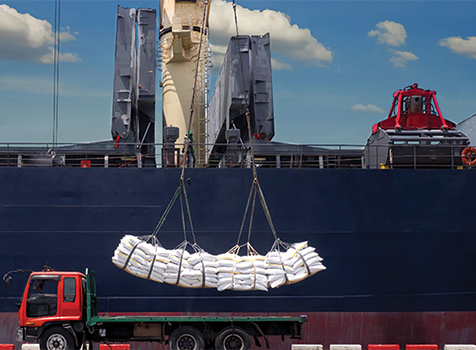 Complete Logistics solution under one roof.
Movements of liquid in dry containers using flexi tanks.
Combination of bulk and break-bulk cargo which is cost effective and viable.
Cargo Operation
Visual Representation of mid-stream cargo in the sea and inland loading at port.
We offer the following services to our customers –
Clearing & forwarding of export containers
FCL & Break-bulk
Freight Broking and having contracts with Major Shipping Companies
All key processes -operations, accounts, documentation are computerized and are manned by a highly qualified, skilled workforce and managers.
We are capable of increasing our fleet strength to meet the demands of shippers. We have the distinct advantage of having our own fleet and this has enabled us to meet the transportation requirements of the largest agro exporters with the most demanding schedules.